Who is Liable For a DoorDash Car Accident?
Food delivery services, such as DoorDash, are helping restaurants reach customers they otherwise could not. However, as the food service apps continue to grow and the demand for doorstep deliveries increases, so does the risk of auto accidents.
DoorDash delivery drivers can get into accidents while making deliveries, but who can be held liable, and how can injured victims recover compensation? During a recent discussion, our food delivery auto accident lawyer, Laurence Banville, explained who is liable for a DoorDash car accident.
LE – What are the steps after an accident with a DoorDash driver?
Laurence – The first steps are important for filing an auto accident claim. If there are injuries, they should be examined by a medical professional. The next step is documenting the accident. Victims should collect as much evidence as possible from the scene of the accident. This includes taking pictures and getting information from the responsible driver. By calling or going to the app, parties involved can file a claim with DoorDash. However, it is recommended to contact an accident lawyer experienced in DoorDash car accidents to help you file a claim.
LE – What are some of the common injuries victims suffer during an accident with a DoorDash delivery driver?
Laurence –Most car accidents are minor, causing minimal damage and mild to no injuries. However, some accidents can be more severe, leading to injuries that may require long-term medical treatment. The details of the accident can vary, but victims may be able to file a claim with DoorDash to recover compensation. Injured victims can use this compensation to cover these medical expenses and more. A lawyer can help you secure financial compensation to cover any costs, such as long-term and rehabilitation treatments. Common injuries from auto accidents include:
Back or neck injury
Concussion
Facial injuries
Burns or lacerations
Broken bones
Nerve damage
LE – Can injured victims sue DoorDash for a car accident that was not their fault?
Laurence – You could be entitled to a settlement if the accident was due to the DoorDash driver's negligence. Negligence might include a driver distracted by their phone or speeding. DoorDash drivers, like other food delivery drivers, take on as many orders as possible to increase their daily income and may rush to meet delivery times. Victims who have sustained injuries in an accident caused by a DoorDash delivery driver's neglect should contact an accident lawyer to see how much they can recover from a food delivery accident lawsuit. Insurance coverage can be complicated with app-based delivery businesses, and a lawyer can help determine who may be liable.
LE – Should injured motorists hire an attorney to file their DoorDash accident claim?
Laurence – Whether you are the DoorDash driver or a DoorDash delivery driver hit you, an experienced lawyer can help you determine if you are entitled to compensation. By hiring a lawyer, you can be sure which party's insurance is liable for the damages.
Get Compensated For Injuries From DoorDash Auto Accident
Contact Legal Examiner today to be put in touch with one of our partnering law firms. Our team of legal representatives offers free consultations to answer any of your questions regarding a car accident with a DoorDash delivery driver.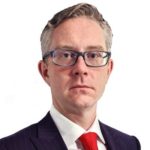 Mr. Banville is a personal injury attorney who has experience in handling auto accidents, work injuries, medical malpractice, dog bites, slip and falls, and representing survivors and victims of sexual abuse. Mr. Banville is affiliated with law firms in Pennsylvania, New York, New Jersey, Delaware, D.C., and Maryland. Abuse Guardian